England goal scoring legend, and my hero, Gary Lineker set off a poisoned gas canister when he alluded in a tweet last week that England were back in the "dark ages" following Roy Hodgson's 4-4-2 formation against Ireland . That instigated a trend of criticism towards the England manager and his team, which lacked merit or fairness when you look at the players coming through for England, the ones that actually are fit enough to feature, and the time of the season some of these friendly games come along. England's prospects are not enhanced by such withering comments from some of the game's opinion leaders. Perhaps their frustration is borne out of wanting more from the national team... they want some form of advancement, but the manager's job is most often an impossible one: he is served a curved ball, at the mercy of events with players' form, injuries, and Clubs taking a selfish interest.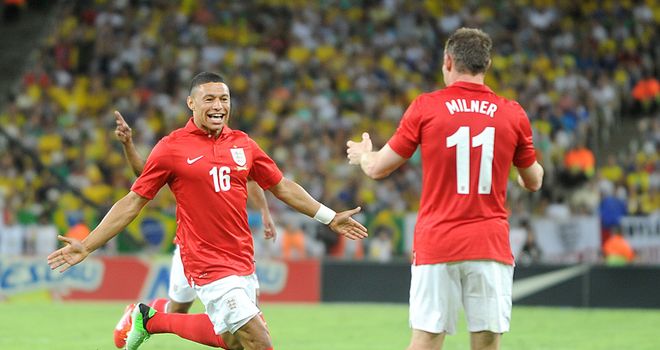 dd
If Gary Lineker feared England would suffer a drubbing at the Maracana against Brazil, prompting that tweet, the team diffused all the scepticism with a battling 2-2 draw against the Samba Boys. It was a game like many down the years that highlights the

CATCH 22 SITUATION

for the England team and it's supporters. England played a 4-3-3 formation against Brazil, and for the entire first half were timid, with a palpable sense of inferiority to their opponents. Lampard, Carrick, and Phil Jones in midfield could not get a grip; and the front trio of Walcot, James Milner and Wayne Rooney came unstuck. This generated an abysmal lack of confidence in the team when in possession, and needing to advance. What's the best thing, Play with inferiority adopting an "updated" formation, or to play well using a decrepit system ?
TYPES NOT SYSTEMS: There are no prevalent concepts that make a team world beaters. England might have been in trouble if Brazil had scored one or two during their dominant spells in the first half. If they do not lack character and guts, then what is missing is not some daisy formation, but types of players to give the team equilibrium, and that would be in the shape of a wide player like existed in Chris Waddle and John Barnes, players that could function on both flanks with skill and invention ; Plus an iconic creative talent in the last third of the pitch - a reference point for the team's attacking play. Shades of Hoddle and Gascoigne come to mind. Sad West Ham's Joe Cole did not blossom, because it's a role that he fits into by style. Once you have the luxury of these sorts, then putting the team together to play a system is when the manager earns his money. Before then, criticizing the team is flogging a dead horse. We should be asking why such players are not produced regularly ! The answer is because too much time is spent blaring the problem on loud speakers, rather than harnessing a solution. Lineker and his ex-England colleagues need to provide more encouragement and solutions to the younger generation. For too long the England manager has born the brunt of wayward expectations, and it's time to end that practice. Roy Hodgson for instance has put a lot of faith in Alex Oxlade Chamberlain, but what can he do if he does not play regularly for his Club Arsenal ! England need to urgently address the situation regarding youth players squarely from the academies. A dynamic sort of collaboration is needed between the FA and Clubs in cultivating players at youth level. A pro-active route needs taking, rather than the discredited and sterile posture of forlorn and despair. The second half of the game against Brazil provides everyone concerned with the reason building an environment for England Players to operate with confidence in themselves is a vital going forward.