Germany's elite Soccer division - The Bundesliga is enjoying distinguished and high profile attention currently after the historic all German UEFA Champions League Final, a couple of weeks ago. The rhapsody began after Bayern Munich and Borussia Dortmund scored twin semi-final victories over Spanish giants Barcelona and Real Madrid. Many commentators have signaled it an axiom that German Clubs will rule the champions league from here on, and advocating the virtues of the Budesliga as a blue print for other clubs in Europe. It's been heralded the Bundesliga is on the rise with it's clubs producing great youth academies, debt free, operating on the maxims of self reliance, financial sustainability, and the fans being at the heart of the initiatives of the clubs. All very impressive credentials without a doubt. However, advocates are wide of the mark transcending the argument into a wider European hegemony for German clubs; they clearly underestimate the onerous task German clubs face reproducing two semi-finalists next season, and actualizing this vaunted superiority. The presence of Bayern Munich in the last three finals of the champions league has spiked the Bundesliga ratings upwards, but generating a
faulty
calculus, because Bayern Munich is not a prototype Bundesliga club, rather you'll need a few other clubs to perform the
feats
of Borusia Dortmund
to showcase
that
argument. But that needs to be
proved
in next season's champions league, once again by Dortmund, and the other German representatives - Bayer Leverkusen and Schalke. Otherwise, it's an extrapolation of ludicrous proportions. It's like saying Arsenal or Udinese would be at the next final because they are well run clubs. It's not going to happen. The Champions League is an incredibly difficult competition, and it takes a lot to win. Here's some stats to freeze that idea :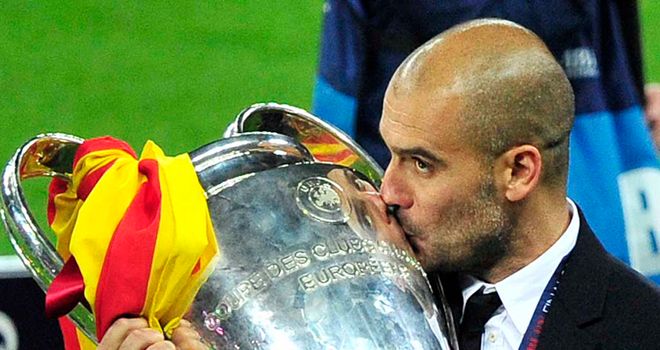 *
23 years ago was the last time any team ( AC MILAN 1989/ 90 ) retained the trophy
* It's only been retained twice in the last 33 years ( Nottingham Forest 1979 / 80' ) and AC Milan ( 1989 and 1990)
* 31 years ago was the last time two different winners emerged from the same country in successive years ( Liverpool 1981 & Aston Villa 1982 )
* The best any country has produced in last for 31 years is Spanish Clubs Real Madrid and Barcelona
winning the competition twice in three successive seasons on two separate occasions: 2000, 2002 and 2009, 2011.
Barriers are meant to be broken, that comprises a part of why sport is thrilling. Football has no scientific bases, but the evidence that German clubs are set to shift the trend and become dominant in European competitions can be scoffed at for a number of reasons :
BAYERN MUNICH :
Folks might fail to notice that Bayern Munich's
financial muscle
has enabled them grow at a faster pace than their other rivals Borrusia Dortmund, Bayer Leverkusen, and Schalke. Bayern can comfortably
buy the best players of their rivals
as they have done over the years, and most recently with their purchase of Mario Goetze from Borussia Dortmund. Bayern's financial dominance is an
antithesis
to the theory most Bundesliga Clubs are well run and financially wholesome and stable, they can all therefore compete on equal terms with Bayern, and have as much talented, and as expensive a squad as the Bavarians presently do, and achieve similar
sporting successes home and abroad
: powder puff..... if anything, Bayern Munich
destabilizes
and
weakens
the other clubs in the top division, cherry picking their best players, and augmenting with top talent from abroad. There is a latent
disparity
in the top echelon of the Budesliga, and commentators need to wake up to this fact. The strengths of the Budesliga is
subsumed
under the Bayern Munich colossus, providing a distorted potential of the Bundesliga.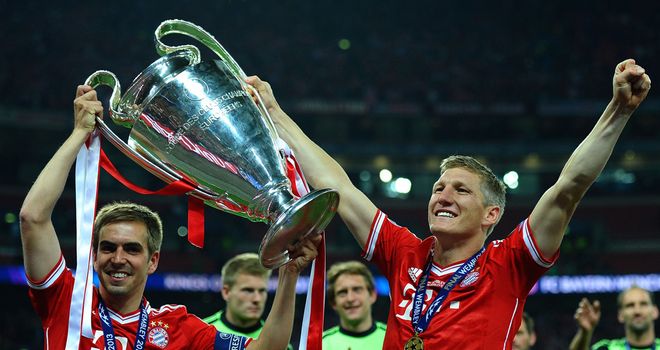 ACUMEN :

N
o doubt the

geese that lay the golden eggs

come in the shape of a good club structure, and
the purvey of properly nurtured young players, and German clubs seem to be doing well at that, but the champions league is not a romantic competition, it's a brutal one, and
competition experience
is certainly a prerequisite to doing well in it. Bayer Leverkusen and Schalke
do not
possess the

requisite

amount of
players
with

this

. Borussia Dortmund are on the verge of losing a few of their best players, neither would they be the
dark horses
they were in last season's competition. One very reliable index of the strength of a country's league is the
Europa League :
If German teams had as much as nearly clout or predominance in that competition, then the argument would be persuading, but no team from Germany
has won the Europa league
in 16 years since Schalke did it, that is a more poignant indication because the revamped Europa league format is modeled like the champions league. Furthermore,
only two
other German teams outside of Bayern Munich have won ( Hamburg and Borrusia Dortmund ) the champions league / European Cup in the last 30 years. In fact, German teams in comparison to Spanish, Italian, and English teams actually have catching up to do first before any hegemony is mentioned.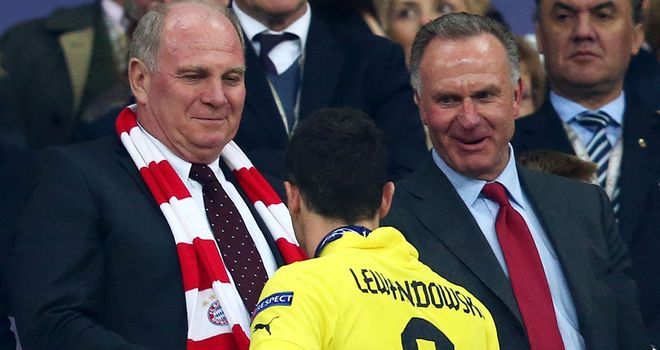 IN OPPOSITION :
The UEFA Champions League has a ruthless edge to it. The antagonists to Germany's representatives in the 2013/14 edition would be a combination
aristocrats
like Manchester United, Real Madrid, AC Milan, Barcelona, Juventus, with their illustrious history, and tremendous potential in
star players
and
financial resouces
; And the
billionaires' clubs
- Chelsea, Manchester City, PSG, and a host of clubs from Russia and Ukraine : who are aspiring to dethrone the status-quo, by purchasing some of the best players in Europe for outlandish sums. After winning domestic titles
set
their
sights
on
conquering
Europe's glamour competition. These two blocks of clubs will provide very severe tests to the credentials of Borussia Dortmund, Bayer Levekusen, and Schalke, no doubt well run clubs, adopting a credible creed, but the argument they stand a chance of
upstaging
those two blocks of clubs is diluted when you consider they won't bring in
star names,
not the practice, and hav a meagre
four
European trophies between them. Bayer Leverkusen have
never
won the German Championship; and Schalke last won it in 1958, and who is to say after Dortmund's scintillating campaign in the champions league this year, will not put up a few more of their talented youngsters for sale!!! After all, that's implicit of it's self sustaining model. The
draw back
with this model is that the aristocratic and billionaire clubs( as mentioned above) have the cash to offer for the likes of Dortmund's best players. No matter how many good ones they produce, it would have a debilitating effect on their champions league prospects.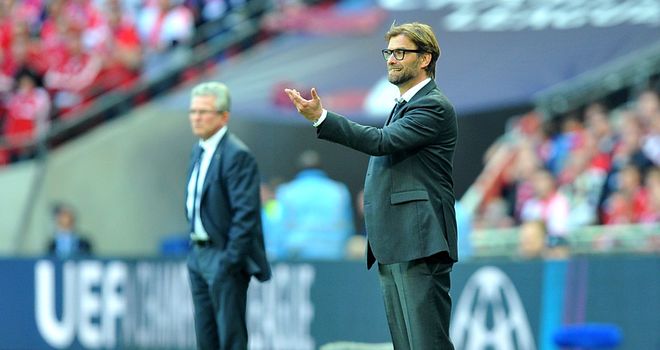 CLOSING BELL: The issue analysts miss out when prosecuting the claim German Clubs have an auspicious future in the champions league is that the Bundesliga is an allegory of
Bayern Munich and the rest.
Bayern buy the
best
around the country. As long as their financial powers eclipses that of the rest by some distance, so too would their collection of domestic titles. Borussia Dortmund, Schalke, and
clubs run on those lines
would hardly be able to gain traction
domestically
and in
Europe
with the scenario their
best players
are apples in the eyes of their richer rivals across the continent, that pours cold water on the idea they are about to stage a coup
The rules that exist limiting foreign ownership of German clubs is admirable, but to the detriment of a
challenge
to
Bayern. It's great these clubs are
fan-based and pragmatic
with their finances, but they have to be able to match Bayern fire with fire to break out of the shadows, and be a force to be reckoned with rather than just the talk of potential. I am afraid they need to make an even
bigger push on the domestic scene first.
That's the
gate way
to any claim on the continent. shifting the all powerful Bayern Munich is the
crux
of the matter. There is
little
empirical evidence
of that, nor any more to suggest Bundesliga Clubs are set to rule Europe; perhaps donkeys would first have to fly over the Alliance Arena for me to believe that.
You might be interested in reading :
Real Madrid shall fall
Barca must now tinker with Tiki-taka
Pep Guardiola's Impending headache