The notion Brazil have run out of talent, and not good enough to compete with reigning World Cup Champions Spain is increasingly looking like a load of baloney in the face of their tremendous display against Italy in the Confederations Cup. Too often Brazil are harshly judged, we have come to expect their teams to be clones of the great world cup winning teams of '70 or '94, and I must admit after watching Phil Scolari's first game in charge in February this year, I concluded the team was lacking.
READ : Promising For England, Worries For Brazil
I will be setting the record straight by saying on the evidence of the on-going confederations cup, Brazil are in good heart; they have got what it takes, and I boldly tip them to beat Spain in the confederations cup final, or whoever their opponents are on the occasion.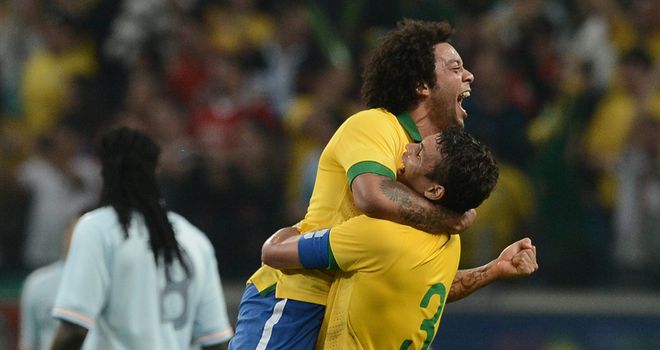 STATE OF PLAY:
A competitive game against historic rivals Italy served as the rallying call for Brazil, but it was not only that they won 4-2 that mattered, it was how they performed at a tactical level and the fitness conditions of the players which evokes sanguine vibes about the team. There is a litany of talent in the starting 11, and on the bench, first and fore most : Phil Scolari adopted a 4-2-3-1 formation, but there is a pioneering sub-plot to that formation which has me buzzing, and could potentially perplex a lot of teams in the future. On paper, there are 4 defenders, but the full-backs - Danny Alves and Marcelo in effect play as wing-backs, advanced in positioning, starting off attacks, an outlet, or an option for the short pass. The wide men of the 3 behind the striker also have that multi-functionality about them: Oscar and Hulk do not necessarily hug the flanks.... they tuck in-field like inside forwards, but also track back to defend, and attack from the flanks in tandem with the wing backs. These four are weapons of stealth, difficult to deal with because they are utility and disguise rolled into one. This team can generate swiftness, play with combinations, and attack in numbers, constantly probing the opponents back-line. The brilliance and magic of Neymar is the real deal; Fred is definitely capable of scoring goals (twice against Italy) ; Luis Gustavo and Hernanes / Paulinho are the pivots in midfield. The team has balance, technical flair, and an increasing appetite to win games, which morphs into devastating confidence eventually.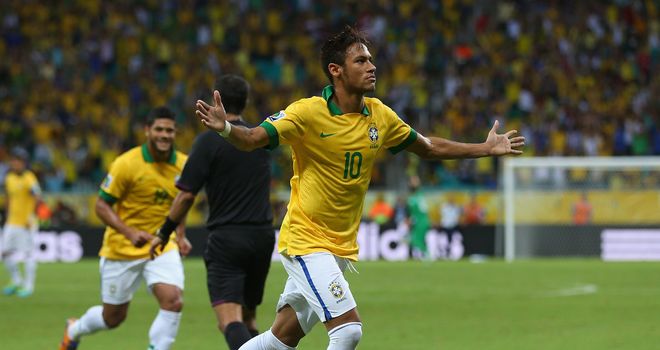 THE COACH, BIG PHIL :
I am a big fan of this guy, why ? it's the result of his proven ability to organize teams on the international stage. He was called upon in 2001 to rescue
A Selecao
(the selection) and he went on to win the world cup for Brazil in the Japan-South Korea 2002 finals. This uncanny ability was repeated with his handling of the Portuguese national team in the 2004 Euros, where they got to the final; and then the semi-finals of the 2006 world cup in Germany. Phil Scolari is one to maximize talent and human resources, tactically nuanced, and adept at preparing teams for tournaments. Before he took charge of the team 4 months ago, supporters of the national team were in dismay, and optimism was in melt-down. I am sure Scolari will here-on change the mood, he is that infectious. He has most certainly given the team an edge it lacked months ago, and make no mistake, his teams are hardly ever a bunch of show-ponies - there is a lot of grafting and a work ethic to it. Hulk's performance against Italy epitomizes that, I have never seen him put in as much hard work and defending like he did...... Let's not tempt fate by asking if Phil Scolari can do it again ! Winning the world cup on home soil will be tough with the likes of Spain, Argentina, and home pressure as factors to contend with. But if he continues to innovate and motivate with a bunch of talented players, and the nation gets behind the team in a positive way, big Phil is the sort to make far-fetched dreams come true. Watch this space !!!
PAULINHO TO SPURS ? The media has it that Spurs are on the verge of signing Flumenense's Brazilian international midfielder, Paulinho. You can be sure this decision is a culmination of the player's performance in the on-going confederations cup. Ramires has been a hit in Chelsea's midfield, but generally i'd caution against signing players on the back of tournaments for their national teams, because it is never a true indicator of a player's ability to adapt. It's one thing to be in an environment with colleagues of homogeneity for a month, and another to arrive in london to a different weather, culture, and absence of family. A player's form is the consequence certain variables. In addition, deals like this tend to be rushed, that means the Club pays a lot more that it should in transfer fees and wages. Watching Luis Gustavo play magnificently in central midfield for Brazil makes me wonder why he cannot get into the Bayern Munich starting eleven. I might also add, I have not seen him play as well for Bayern Munich. See where I am coming from ?
YOU MIGHT BE INTERESTED IN : Belgium At Boiling Point