In the wake of Barcelona's exit from this season's Champions League at the hands of Bayern Munich, many commentators have opined
Tiki-taka
, Barcelona's widely acclaimed, and ultra-successful tactical concept is moribund. Another school of thought have it to be the end of an "era" - such was Bayern's superiority in play over the two-legged semi-finals, and the siren aggregate score line of 7-0. Who would blame anyone one for their assertions Barcelona and
Tiki-taka
are washed up. Others say a shift has now been recorded, and German Clubs now hold the balance of power.
There is no doubt Barca and their flamboyant style have been stymied somewhat in the last two champions league semi-finals by Chelsea, and recently Bayern Munich, but what we must not forget too quickly is how successful and attractive this tactical formula adopted by Barca over the last twenty years has been. Johan Cryuff's ( manager from 1989 - 1996 ) dream team featuring the likes of Romario, Hristo Stiochkov, and a certain Pep Guardiola played to the concept of
total football
winning
four straight spanish titles, and the champions league in 1992, beating Sampdoria 1-0. When Barca got beaten 4-0 in the '94 champions league final by AC Milan, the outcry then was similar to current trends:The magic is gone!! Frank Rikyaard won back- to- back Spanish titles 04/05 and 05/06, plus the champions league in 2006
playing the Barca way. Pep took the reins in 2008, modified
total football
into what it is today -
tiki-taka
and won
three successive titles plus two champions league triumphs between 2008 and 2012.
A
nother La liga title beckons in 2013 for his successor, Tito Vallanueva. The ethos behind this revered system is enduring, and it's application still evolving, even though it has hit a brick wall at the moment, it's foundations are resilient, and it's further success a given.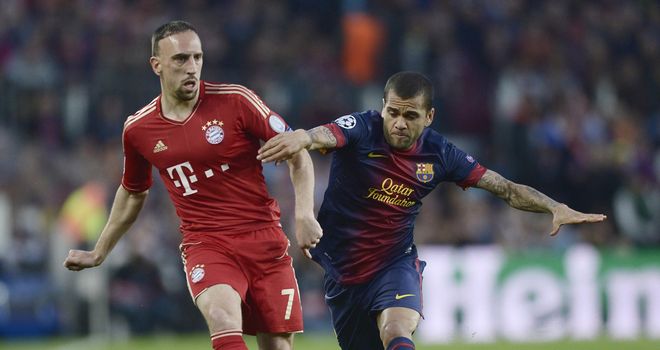 THEORIES OF A FALL : A plethora of reasons have been espoused for Barca's abject thrashing by Bayern Munich in the champions league semi finals. One universal theory holds true: the origins of today's decay emanated from yesterday's success ; as much as today's success was sprouted from yesterday's decay. The team has lost it's sparkle in the last one year to be precise, even before the departure of Pep Guardiola. As an observer, it's been due paramountly to the team's inability to attack with the intensity, and speed it formerly did. You might add that the approach play has been one dimensional, and overly orchestrated to pander to Messi's finishing prowess. In other words, not only has this slowed their attacking moves - waiting for Messi to arrive in the box by stealth leaves the shape of the team severely vulnerable to the counter attack. Jose Mourinho's Real Madrid took full advantage of this flaw, and has used it as an antidote in meetings with Barca in the last one year. PSG further hinted in this season's champions league quarter finals clash with the catalans that, defending soundly, with an appetite to attack Barcelona is a recipe for beating them. Barcelona's football concept is underpinned by copious ball retention, and closing down opponents in their own half (pressing ) to regain possession. it's evident the tactic is geared towards attack, and perhaps recently, the balance has not been right with their defensive positioning when teams counter-attack. In addition, the team has looked jaded, lacking sharpness, a cutting edge, and the requisite diversity in attack. Historically, Barcelona's best defense is their attack; ironically, Messi's grounding- breaking, goal scoring records actually accentuates the difference between balanced, concerted attacking play, and goal scoring. Do not be fooled into believing the latter is necessarily a concomitant of the first.
INCREMENTAL CHANGE : Barca's deeply entrenched playing style is pure and beautiful. However, perhaps it is due a re-calibration. Who is qualified to teach them about what they do so well ! Who is to say they would not have been in a better position had coach Titto Villanueva not gone seriously ill for two months at the beginning of the year. Whatever you want to call it, Barca are in need of a healthier variety of defensive players. The short comings: Mascherano playing out of position in defense should been a non-starter; Puyol is in his thirties, and creaky, then Abidal has just returned from Liver transplant, and Sergio Busquests like mascherano is not a permanent solution at centre back either. PSG's Thaigo Silva recently said he almost joined Barcelona in the close season, I would definitely see the rejuvenation of their centre back positions as intrinsic to their revival next season. Be it with
tiki-taka
, or any other variant they choose to follow subsequently, it is about time proper defending became compatible with their famous attacking play. If Messi sores so many goals, would it not make sense if they had the means to shut teams out as well ! Barca have for too long treated defending as poor relations.
The squad is also paper thin, and what we have learned from the likes of Bayern this season is that it's pertinent to have the right options on the bench. The season is long and hard, the likes of Cuenca, Tellio, and Thiago are talented, but short in the regard of making the necessary impact if thrown at the deep end. Barca need to broaden the frame work to find another level in order to maintain their recent gains. The competition domestically, and in Europe is gettimg fiercer. Fresh impetus is needed, pragmatism can be infused in the aesthetics of Tiki-taka. Time for calm reflection.
GERMAN FLAVOUR : The first ever all German Champions league final has given credence to the wide spread perception that Germany hold the balance of power at the moment in European Club football. I am not swayed by that analysis. It's way too early to call, or draw such conclusions. Bayern Munich are playing in their third straight champions league final, but we forget they won nothing for the last two seasons. Their vast resources enabled them augment their squad significantly in the last two years. Bayern were traditionally not such big spenders, so we cannot under-play how that has affected their progress. They spent big to make this progress, and it would be mendacious to suggest the top echelon of German clubs have equated Bayern's position.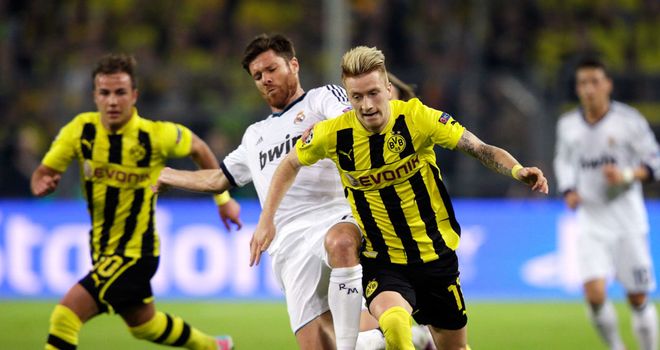 Borussia Dortmund have been the revelation of this season's champions league. The manner and character they showed in edging past Read Madrid in the semi-finals was enthralling. The relatively young team plays very intelligently from back to front, allied with that is a tremendous work ethic, pressing the opposition in sub-units all over the pitch. Jurgen Klopp, Dortmund's coach, must be given loads of credit for the philosophy with which they play. It's no accident, the team plays with the logic they do, and to have reached this level of success without necessarily spending anywhere near what Bayern Munich have, is commendable. Having said that, what they have achieved this season does not mean Dortmund have created a shift. At best you can say they have generated momentum, and maybe Bundesliga clubs are in a healthier financial state than their counterparts across the continent, but we have to wait and see where all of this leads.