England Striker Wayne Rooney seems to be at an impasse with his Club Manchester United for reasons that are misty, and the subject of quite a bit of speculation at the moment. The fundamentals of the story in all probability began the very minute Robin van Persie signed for £24 Million from Arsenal last summer. One can conjecture a percolation of strain over the months till it reached a watershed in Manchester United's Champions League, 2nd round, first leg clash against Real Madrid at the Bernabeu last February : Wayne Rooney was on the bench, Alex Ferguson opting for van Persie and Danny Welbeck in attack. You needn't be a fly on the wall in the home side's dressing room at Old Trafford to gain insight to the knowledge something was amiss between Wayne Rooney and Sir Alex Ferguson all this long.
A week ago, Alex Ferguson, in what I judge to be pre-meditated, after all these months of prevaricating, told the World, the Red Devils' number 10 had asked for a transfer, and was not in the mood to be involved in the Club's last home game of the season. A game laced in significance, as it was Fergie's last at old Trafford, before his retirement, and a day the Premier League championship trophy was to be presented.
READ :
The Man Utd Dynamic Guarantees Continuum
Alex Ferguson would not have had enough time to deal with the Wayne Rooney issue whilst prosecuting the re-capture of the league championship he knew was to be his last ; so, he must have blanked Rooney for bigger matters, but let the state of affairs with the player be known at his earliest convenience, before retiring, and washing his hands of it, allowing new manager David Moyes to deal with the issue
DISAFFECTION : From Mark Hughes to Eric Cantona, Andy Cole to Ruud van Nistelrooy, Dimitar Berbatov to Robin van Persie, Alex Ferguson was never scared to hire and fire his strikers. For good measure, leaving a few to rot in the reserves when the situation calls for it. Wayne Rooney is one case that he perhaps never quite got clean strike of. Wayne Rooney signed for almost £30 million at the age of 18 in 2004. The move bore all the hallmarks of Fergie's swashbuckling style when capturing marksmen he knew could do the job for him. I'll never be clear as to how Fergie saw Rooney's long term place in attack, but one thing that can never be denied is how Rooney played with versatility for Manchester United to accommodate the likes of Louis Saha, Carlos Tevez, Cristiano Ronaldo in the past. Rooney not only played out of position, he worked damn hard for the team chasing back, and tackling. If you check his goal scoring stats, it's only in the last 4 years it 's begun to look anything like that of the player of his goal scoring potential. That's more or less a consequence of him being the knob for tactical variations in United's attack. There is no question Fergie loved his utility. Wayne Rooney also evolved remarkably at a technical level in the last two to three years: Being a link between midfield and attack, dropping into pockets, giving diversity to attacking angles in his passing and positional play. Ever capable of scoring all types of goals..... ditto setting them up for team mates. I can affirm only a handful of top strikers who can compare to Rooney's ability as a multi-dimensional attacker / striker. That makes him one of the best of a rare breed.
As Wayne Rooney has approached his late twenties after all his toil, selflessness for the cause, and the added value of his positive transformation as a player, perhaps like his contemporaries Ronaldo, Messi, Falcao, Luis Suarez, he ought to feel trusted by his manager, and empowered to play the starring role in Manchester United's attack. I personally believed that moment had arrived in the 2011/12 season when he scored 27 times in 34 league games ( 34 goals in 44 games for the season ). He looked to be enjoying his game, but United lost the championship race to Man City, then Alex Ferguson recruits Robin van Persie, and that in my analysis would have evoked consternation with Wayne Rooney, because it meant in spite of the wonderful goal scoring season he had, the club bought another striker, and placed him on a similar salary.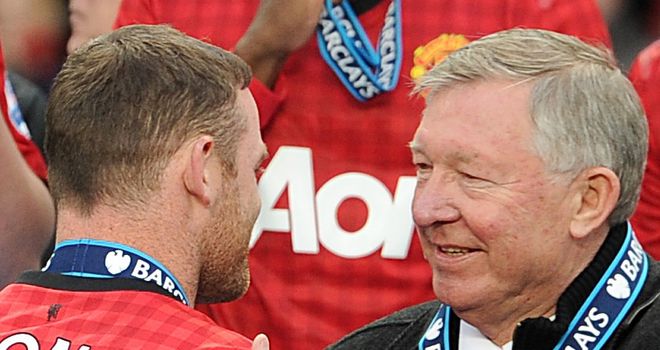 FACTS: A lot of folks in the media have made mischief of Wayne Rooney's demotion this season, and I see that as unfair. The lad reserves the right to some misgivings, and perhaps some outright sulking. No doubt Robin van Persie has been dynamite this season, but a closer look at the stats tells you his presence actually had a detrimental effect on the other strikers in the squad as this blogger had suggested last August
READ:
Man Utd's Dilemma or Collateral Damage ?
Javier Hernandez played 22 times in the league ( most as sub ) in the 2012 /13 season, scoring 10 goals, having scored 10 in 28 league games in the 2011/12 season. Six games less, and treading water; while England striker Danny Welbeck scored once in 26 league games last season, a shortfall of 4 games and 8 goals on the 2011/12 campaign. It goes unnoticed Robin van Persie who got 26 from 38 games this finished season actually scored four less than in same number of games in his last season with Arsenal. It can hardly be denied Robin van Persie was selected more than any other striker in the team to enable him bed-in, and the decision brought in the added value - his goal scoring feat. It could also be argued that he did not necessarily need to monpolize that platform, given he is an established premiership goal scorer, fight for his place like everyone else. In the final statistical analysis, Rooney had a better goal ratio of 27 in 34 league games in the futile 2011/12 season when he was the main striker than the Dutch striker's this season ( figures above ) Is that wrong were it to be a bone of contention for Rooney, and his reason for disaffection ? If all three strikers - Rooney, Hernandez, and Welbeck did not empirically register an up-tick in the stats in like for like seasons, you need not be a Rocket Scientist to fathom the root cause reason for that if Robin van Persie was Manchester United's star man in attack this season. I'll reiterate my argument from last summer and that is you cannot keep four relatively young international strikers happy at the same time, in a high profile club like Man United, in today's game. The motivation / De-motivation theories are bound to conflict as winners and losers emerge from the prevailing circumstance, even if the consequence was unintentional. It's basic human nature.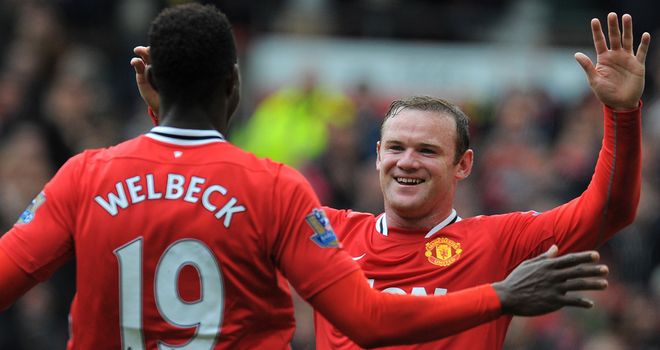 END GAME; Rooney drove a hard bargain a year and half ago in attaining a pay rise. It's open to interpretation if that influenced Fergie's determination to bring in a rival or a compliment, which ever way you view the capture of van Persie, and the primadona attacker's position he occupied in the season gone by. On the other hand, Wayne Rooney's request for a transfer is a game of chicken, and the sort of posturing designed to turn the screws on the club and manager. I do not believe he resents United so much he wants leave with immediate effect, but rather a screech of frustration at his nascent alpha status coming under jeopardy by Fergie's design. New Manager David Moys takes the situation fully in the face, and would have to come up with a tactical plot to accommodate Rooney and van Persie in tandem. Quick solutions have to be espoused to avert an unforced error on the part of Club and player. Nice introduction for Mr. David Moyes.