The Media love a darling. In this case, Chelsea coach, Jose Mourinho is the darling of the media. The ex-Real Madrid manager enjoys a cult following in the British media. They have characterised him in lavish and romantic terms. It whiffs of servitude, obsequious and starry-eyed at the very least. Or to borrow Edgar Davids analogy, they ought to get their hooters out from where it's lodged down below.
A good chunk of the media have created a myth to the man and his coaching skills. Even after Chelsea's 2-0 defeat to Newcastle, November 2nd, the media pretend not to see the flaws in his team. He is portrayed as the embodiment of victory or success to the game. You'd be forgiven for thinking Jose Mourinho invented all the tactical postulations we have witnessed. His performance and utterances before the media, ties in with that narrative. He's got the media hexed, and they in turn milk the misconception he spouts for headlines.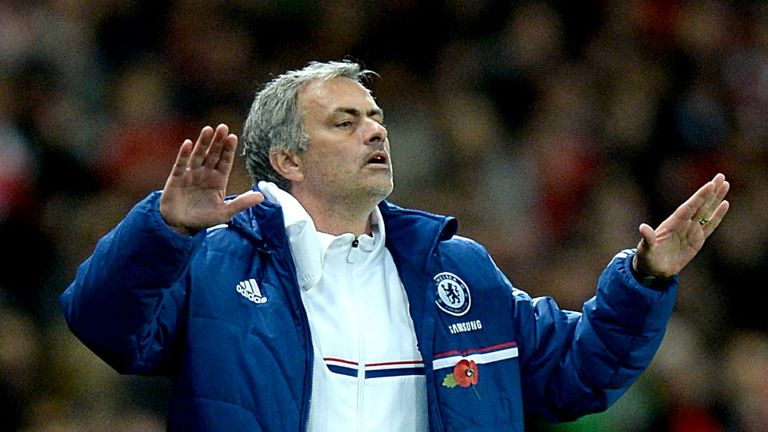 Mourinho is presented as Chelsea's messiah. True he won two premier league titles for the club in 05 and 06. On the back of record spending on new players, he constituted a formidable team back then, using charm, rhetoric, and audacity to launch Chelsea to the fore front front. It was self-evident Mourinho had a team grinders and grafters, rather than players of fantasy. Even after spells at Inter Milan and Real Madrid, Clubs that had the biggest budgets in their respective leagues, he never produced a team that the soccer world got fond of, like we did with Ajax, AC Milan, Barcelona, and most recently Bayern Munich. How come?
That's because Mourinho is first and foremost a counter-intuitive coach, rather than one who plays to the ideals of the game. A character, rather a custodian of the values, and finest traditions of the game. A master in the art of divide and rule, and a self serving junky.
Once he returned back to England in the summer, the bookies and the media installed Chelsea as the favourites to win the premiership. The Club spent over £50 million on Andre Schurlle from Bayer Leverkusen, and William, from Russian Club Anzhi; on top of pre-existing attacking talents in Eden Hazard, Oscar, Mata, de Brunye, and Victor Moses
Do I need to mention Mourinho also got striker Samuel Eto to join Torres; and that youngster Romelu Lukaku seemed on the verge of finally getting his chance at Chelsea. The Chelsea coach in his infinite wisdom sent Lukaku out on loan, this time to Everton, and he now has five league goals to his credit. Eto and Torres: only one each. Mourinho has pivoted from calling his team "babies", to controversially de-selecting fans' favourite Mata; and then expending copious media attention in trying to define his philosophy, and how Oscar is his new number 10, usurping Mata, who does not "work hard" enough tracking back. I doubt the likes of Cryuff, Maradona, or Zidane were ever castigated so publicly as Mourinho did Mata!
The "happy one" tells us he has "never worked harder" than he has with Chelsea this season. He
cannot decide if to play David Luis or not. The Brazilian International has been criticised, and dropped. After his perpetual tinkering of personnel, he has the impunity to claim the players are not heeding his instructions. Isn't Mourinho trying too hard to impress here? is this not narcissism? The media is rife with stories of him wielding the axe to players who are not adhering to his standards. Can you really back Chelsea to win the league with Mourinho's vindictive, shoot from the hip management style?
We saw his infantile behaviour in Chelsea's clash with Man City a week ago, when Torres got the fortuitous winner in the last minute: He celebrates over zealously, jumping into the crowd, with the excuse he wanted to celebrate with his son; and Chelsea are "to blame" for locating his son close to the opposition dug out! What a load of garbage! Man City's Manager Pellegrini didn't find his tawdry behaviour funny.
Here's my take..... The media will soon understand their folly in jumping into bed with Mourinho again. They can give his excuses for being five points behind premiership leaders, Arsenal as much positive spin as they want. They can be enamoured by the drama of his press conferences; they can claim Chelsea are not "a Mourinho team yet"; they can dream on about Chelsea winning the tittle this year! In the end, they'll realise Mourinho and his dogma is a train wreck waiting to happen.
When they really decide to cover teams and coaches that deserve attention for sheer gravitas, I am sure Southampton and their Argentine manager Mauricio Pochettino would come under their spot light. Southampton are going great guns. I refer to them as the Borussia Dortmund of the premier league. Pochetinno has no less than five England International prospects in his team. They play the high pressing game; switch from defence to attack rapidly; create quick openings in the opposition's half, and are explosive in search of goals. Pochettino should be hailed for the tactical transformation of the south coast club. Like Guardiola at Bayern Munich; Tata Martino at Barcelona; Rudi Garcia at AS Roma, coaches who have proved their worth at a new Club in a short spell. Mourinho's oratory is cheap!!!`