In a week when Republic of Ireland's new manager Martin O'Neil referred to his immediate successor at Sunderland, Paulo Di Canio, as a "charlatan" for the Italian's uncomplimentary remarks over the "fitness" state of Sunderland players, back when he inherited the job in March this year. Many observers would be forgiven if they had a similar opinion of Mauricio Pochettino, Southampton's Argentine manager, when he took over at Saint Mary's at the beginning of the year.
Not that the ex-Argentine International made any derogatory comments about the players he took over, but his name recognition level was dismally low in England. Pochettino had a relatively obscure playing career; mostly known in his native Argentina; Spain where he played and managed Barcelona's poor relations, Epanyol. His stint as a player in France with PSG and Bordeaux was unremarkable. In his relatively short management spell in the Premiership, he has been self-effacing, and chosen to do interviews through an interpreter, even if it's widely believed he has a grasp of English language.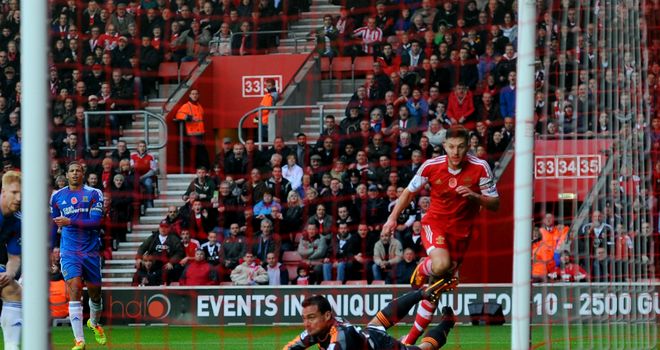 There was consternation when his predecessor, Nigel Adkins was sacked by Southampton after guiding the South coast club to the premier league. After a turbulent start, had started to turn the corner with a string of impressive results at the tail end of 2012. Even Southampton Legend Matt Letissier criticised the sacking of Nigel Adkings for Mauricio Pochettino.
The 41 year old former centre half has wasted no time in impressing his doubters, by consolidating Southampton's fine form when he took charge, and actually enhancing. There was no bigger stage for the new Southampton boss to announce himself to the premier league, than at Old Trafford at the end of January, when his team terrorised Manchester United, despite a 2-1 loss, prompting the ex- United manager, Alex Ferguson to confess:
'In the second half Southampton produced the best performance anyone has done here this season,
'They pushed right on top of us and didn't give us time to settle.
'But my experience of this club, when you are going for championships, is that there are always games where you can say we were a bit lucky.
'This was one of those nights.'


I suppose Fergie's comments were a foreshadow of events to come under Southampton's new chief. Pochettino has transformed Saints from a side with just potential, to one with tactical aptitude and consistency in his first full season. They close down opponents high-up the pitch with their 4-2-3-1 formation, score goals, and have become harder to break down. The Club owners were confident to back Pochettino with no less than £35 million for the signings of Pablo Osvaldo; Victor Wanyama; and Dejan Loveren in the summer, adding quality to the squad.

It's little wonder England manager, Roy Hodgson called up three Southampton players ( Ricky Lambert; Jay Rodriguez; and Adam Lallana) in his latest squad to face Chile and Germany. Southampton have a precedent for unearthing major talent, but three exciting players in the England squad is a breath of fresh air, and thanks to Pochettino in no small measure.

Southampton have climbed up to third place in the premier league table, after 11 rounds. This no doubt their best start to a premier league season. Mauricio Pochettino won the manager of the month award for October; he has won 12 of his 30 games in charge, losing only 7. Maybe people did not heed the warning when they beat Liverpool 1-0 at Anfield in September.

Sadly, with the publicity they have enjoyed since the call up of three of their players to the England squad, comes greater expectations. Southampton and their manager can no longer expect to fly below raider detection anymore.Teams are going to get better prepared, and games shall get tougher henceforth, then we'll know conclusively what they are made of. But i am willing to bet they will finish in the top seven position this season, and that would be a monumental achievement for the club, it's fans, and their talented manager Mauricio Pochettino.


The News that BT bid over £900 Million to win exclusive coverage of champions league football from 2015 - 2018 is an outrage in my opinion.

I suppose you'd say it's an independent company, responsible to its share holders. But that's not the point: Their quest to pose a counterweight to SKY's dominance of football coverage is going to trigger the unintended consequence of customers paying more on subscription charges on either, or both platforms

If BT have to Fork out £2billion for rights to screen premiership and champions league games; plus their coverage of the Bundesliga, Lique 1, and Serie A, that seems like they are overreaching themselves, and surely, when the smoke clears, customers will be asked to pay more.

It's reprehensible on two levels.

First, SKY and ITV have an existing deal which cost both £400 Million to air champions league games till 2015. A deal that encapsulates the interests of everyone, and makes a lot of sense to those on pay TV and those not. Why does BT want exclusive rights? would it not make sense to share a deal with SKY or ITV, and bring down costs for itself and it's subscribers? Is it not an axiom in economics that competition brings down costs? Well, it seems football broadcasting runs contrary to smart economics! How reprehensible is that!

The other level this grates with me is the hypocrisy of UEFA and the European commission. UEFA talk about Financial Fair play rules for rich clubs, whilst gaming the unsuspecting British public with it's bidding process for Champions league screening rights. The European commission led calls for the de-monopolizastion of SKY's broadcasting rights, a few years back. I wonder if they are asleep or acquiesced to how UEFA have just sold broadcasting rights to a single entity, called BT.

There's no doubt UEFA have cashed in on the Maximalist and irresponsible position taken by SKY and BT to competing for broadcast rights. They'll be laughing all the way to the bank, and the British public are taken for suckers. I bet BT's so called "exclusive deal" is inordinate with what the media from other European countries got from UEFA.

SKY and BT ought to close ranks, and realise that this orgy they are embarking on creates undue inflationary pressure on their customers. Footballers will take home more pay; UEFA pay lip service, while the fans are left reaped off. If this precedent spirals, it will be a crying shame. I am sure the FA are plotting their share, and Alas, the vast majority of fans - working class people, toil!