Early November, 28 rounds left in the Premier League, do not be fooled by anyone saying it's still early days yet.... The league table has had a fairly consistent shape for the last five weeks, and I do not envisage more than small changes in the standings of the top eight teams currently, when we hit 38 rounds. Any major shift will come from Man Utd, whom I believe would eventually gate crash the top four.
Significantly, I see Arsenal and Liverpool finishing in the top two positions. These two served us the best game in the premiership so far, when they clashed at The Emirates, November 2nd. Not only was it a great advert for the Premier League, it showed that both sides are more settled tactically, and structure-wise, and as long as they handle the fluctuations and nuances in details of this turbulent league, correctly, they'll remain as they are.
I stand firm in my convictions Arsenal will win the premier League this season, and yesterday's performance proves they are the best team in the League. Contrary to most pundits' view, beating Liverpool 2-0 means they can handle the pressure, and won't choke at the top.
Liverpool are on a great run, and the mention of Suarez and Sturridge gets opponents hyper-ventilating. Their Midfield has skill, invention, and protection from playing de facto five defenders. Brendan Rodgers' game plan was as expected - to press Arsenal high in midfield; with Suarez and Sturridge picking up the pieces from there. Arsenal did not play suckers twice. Yes, they fell for it against Borussia Dortmund in their 1-2 defeat to the German side in the champions League, not once again.
There were always going to be chances at both ends, but such was the tactical plot of this game, that the better midfield would inevitably produce the winning team. Liverpool had five to press - the wing backs Cissokoh, Flanagan; and midfielders Henderson, Gerrard, and Lucas. Arsenal pushed their defence high when in possession in their half; and the likes of Arteta, Ramsey, Carzola, Rosicky, out-manouvred Liverpool's midfield, and showed excellent technical ability to retain the ball; when they lost possession, their high-line defence, counter-pressed to regain possession. The midfield duel in this top of the table clash, was like two boxers in the ring with the knowledge that scoring points with jabs mattered more than seeking a knock-out with the big left hook. Arsenal's success was built around their midfield flair and technique.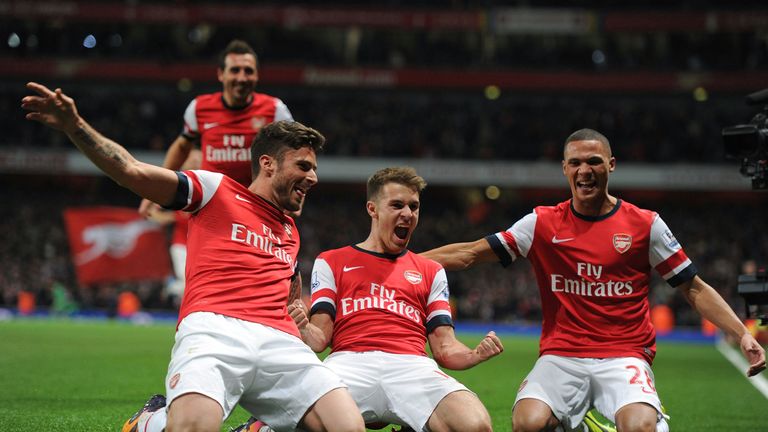 Arsenal have floundered in the last few seasons, and that's been in the main down to manager Arsene Wenger's scorn at tactical defending and high work rate in midfield. Merely thinking the technical fluidity and brilliance of his team was good enough to win the league. He was mistaken. Wenger now brings on defenders when a lead needs protecting. He was so animated against Liverpool even when they were ahead; such has Arsenal evolved.
It must be stated that as much as anything else, having a relatively smaller group of players available has been helpful to Arsene Wenger. It's helped him get his message across, they have circled the wagons, and playing 14 or 15 players consistently means the team can focus better and it's ethos better upheld. How about Aaron Ramsey? if he goes on like this till january, he'll be player of the season. Typically, the best player in the league tends to play for the eventual league champions. The signs are good for the North Londoners.
Arsenal deserve the encomiums, but Borrusia Dortmund on November 6th will be an interesting clash. Have Arsenal learnt their lessons? They conceded two careless goals in the first leg in London - losing possession on the edge of their box, and a sucker punch on the counter attack in the 85th minute. Overall, I do not think Arsenal dealt with Dortmund's intense pressing on the night; neither did they compete well enough in large spells. Playing Liverpool before Dortmund is a perfect dress rehearsal for the game at the Signal Iduna park. This time, the Gunners must out-compete Dortmund with a higher work rate in midfield, and like they did against Liverpool, counter-press. In a nut shell, the key to victory in that game is to give Dortmund a dose of their own medicine. I really do not expect Dortmund to do the double over Arsenal despite their 6-1 demolition of Stuttgart in their last game , and lots of pundits concluding an easy win for Dortmund. They will be mistaken to underestimate Arsenal. Remember Arsenal destroying Norwich 4-1 before the first leg? Football is full of surprises, and I am predicting Arsenal to triumph in Germany to a lot of surprise!