The formidable Borrusia Dortmund yellow and black machine abruptly jammed to the dismay of it's fervent followers at the Signal Iduna park on the evening of Wednesday, November 6th . It was Match Day Four in the champions league group stage, and London team, Arsenal were in town for the reverse fixture after losing themselves at home, 1-2.
Jurgen Klopp's men has stood toe-to-toe with arch rivals Bayern Munich and some of Europe's finest teams in the last one year. Who would forget their spectacular 4-1 win against Real Madrid in the first leg of last season's champions league semi final. That was the game that got everyone sitting up to take notice.
It was not only about the fact that Dortmund made it to the finals of the champions league last season that caught the eye, it was also about Dortmund's high energy pressing game; and their razor sharp counter attacking play. A lot of analysts have concluded the Gelsenkirchen outfit are "difficult" to play. I recall respected Bundesliga writer Rafael Honigstein saying "you know what Dortmund are going to do, but stopping them is another thing".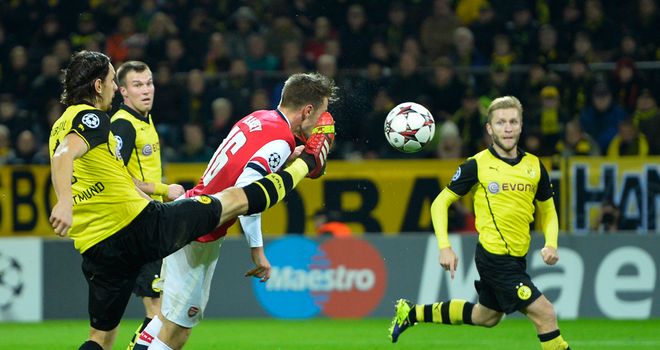 No doubt, Jurgen Klopp has built up an idiosyncratic team, and derives maximum efficiency from his young players. But the manner in which they defeated Arsenal two weeks ago had prompted this blogger to state thus :
I really do not expect Dortmund to do the double over Arsenal despite their 6-1 demolition of Stuttgart in their last game , and lots of pundits concluding an easy win for Dortmund. They will be mistaken to underestimate Arsenal. Remember Arsenal destroying Norwich 4-1 before the first leg? Football is full of surprises, and I am predicting Arsenal to triumph in Germany to a lot of surprise!
Here's the thing with soccer: any successful team tends to carry an exaggerated potency, till demystified. Dortmund's swashbuckling tactical philosophy may well have been decrypted in their home defeat to Arsenal. Klopp's team have mastered the craft of exploiting space with speed, after ensnaring teams in their own half. But what Arsenal revealed in their win in Germany is that, perhaps the best way to play Dortmund is to circumvent their pressing by keeping the ball cautiously between your defence and midfield zones, where you have most of your players massed, thus protecting the ball better. Arsenal made lots of zigzag passes, taking the sting out of Dortmund's predatory instinct, and slowed down their running power. Arsenal's slowing the game down, watered Dortmund's renowned intensity, and by consequence their danger.

In other words, Dortmund are a more dangerous proposition when opponents attempt to play into their half. Bidding your time forces them to take the initiative in a more pro-active sense than they would probably prefer. Having said that, Dortmund did not really deserve to lose this game, as they made enough chances to win. Perhaps they did not deserve to win in London in the first place, so poetic justice was served.

Where to go for the Klopp and the Yellow machine? we'll know better after games against Wolfsburg and Bayern ( In the Bundesliga ) and Napoli ( champions league ) this month. I expect them to continue to ruffle feathers along the way. Gundogan, Hummels, Pisczek should soon return to boost Klopp's options. As long as Dortmund remain good to their playing ethos, soccer aficionados and scholars alike would at least unanimously rule their style innovative and exciting. A median way, at a time when the game is under the influence of Pep Guardiola's inspired tiki-taka ball retention, which some times can be monotonous and boring. The game needs the Dortmund approach, and whatever may have happened this week, I believe they still have the wind in their sails