Crave my indulgence, please... not many, if any had dared to encourage a challenge to Spain's authority in International Soccer. The media establishment, obsequious pundits and analysts, even coaches in the game, got predictably boring with their acquiescence of Spain's excellence. Such complacence is short sighted, and highly unwholesome for the game. On the 25th of June, I wrote these lines below :
We cannot eternally view Spain with rose tinted spectacles, we must start to challenge the status quo, hence I belong to the esoteric school of thought that seek to exalt a fiercer contest to Spain's reign, rather than the sport to remain paralyzed by their panache. An International record 28 games the world champions have gone unbeaten: It's time for nations in the football community to take a good hard look at themselves and what they are doing. Spain are outstanding, but there is also an argument of a psychological inferiority hanging over the rest which is self evident. Change that, and the barriers start to fall.
READ : Belabouring The Spanish Point
Brazil produced a devastating display of power, tactical pressing, a ravenous hunger to win, sparked by national and sporting pride. The confederations Cup was a show case for the FIFA World Cup next year, and Brazil took the bull by the horn. It was in so many ways perfect for them to face Spain in the Finals of the competition. Whilst Spain had become World champions, and held in the highest esteem, everyone forgot they had not beaten 5 time world champions Brazil at any point in time in this magnificent cycle. Congratulations to Brazil for playing their part in providing a competing theory to Spain's, and making the winner's of the 2014 world cup a close one to call.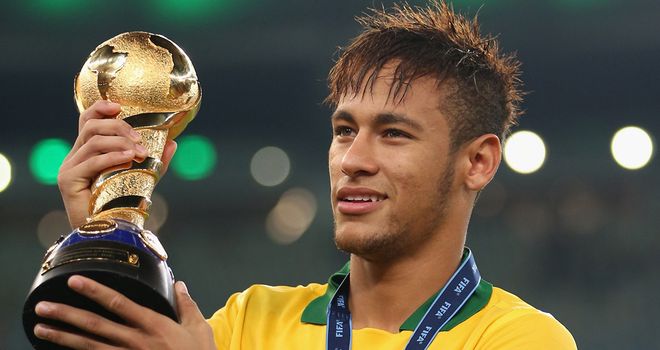 The Samba stars from Brazil were fired up, bursting with pride and motivation after a rendition of the Brazilian national anthem by the players and 75,000 fans, A cappella style. It was such to get the hairs at the back of your neck standing. The charged atmosphere complemented Brazil's tactical plot to stifle and pulverize Spain with aggression, speed, pressing; and always looking to exploit the loose ball, with rapid conversion into attack.
The much maligned David Luis played the game of his life. His partner in defense Thiago Silver suffocated space; Luis Gustavo an Paulinho underpinned the team, and boy did they tackle ! Oscar picked the scraps in midfield, while Neymar was quick, elusive, creative and magical. Striker Fred was competent, as his two goals underlined. Brazil delivered an A-Z team performance - a perfect response to their doubters.
Big Phil Scolari has got it going on once again. He has picked up a floundering team, and burnished it. Spain had been at the cutting edge of contemporary tactical advancement ; so much so, perhaps, Brazil were in danger of being forgotten as major players in the sport. Almost no one had faith in this team, but Scolari has not just restored Brazil's pride, he has re-announced to the world, Brazil have the players, the tactical variation, and adaptability to keep it at the fore front of the game. We saw a model way to counteract the opponent when they press : The centre backs Thiago Silver and David Luis took up positions akin to a full back when Brazil had the ball in their half ; with the two midfielders Paulinho and Luis Gustavo serving to protect. David Luis, especially, launched diagonal cross field passes from the left back position towards Hulk on the right side of attack,meaning Brazil were not sitting ducks.
This shape was awkward
for Spain to press.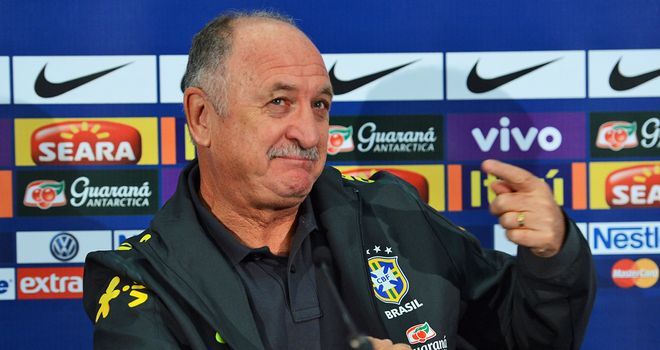 Spain were not bad! They played their game, except they were surpassed. Iniesta and Xavi were in the mood, but Brazil were more than determined and tenacious in midfield. Spain's potential in attack was always visible. Torres was played as the point man, but it was that sort of game where La Roha needed something new, because Brazil had their number all the way.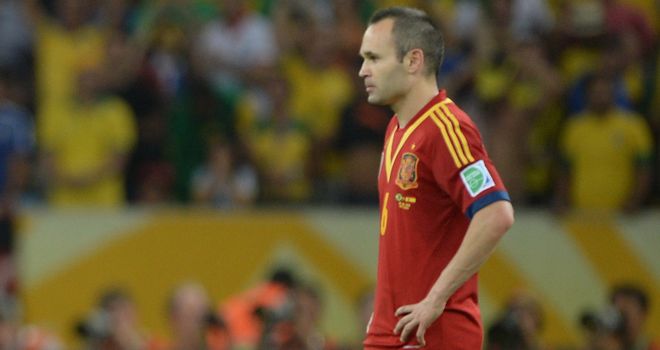 I was watching ESPN Press Pass the other day, and one of the issues raised and discussed by Paul Mariner, Stewart Robson, and Sid Lowe about Spain was their lack of fresh ideas, and if the younger generation might now have to step in. Haven't you heard that theory on this blogsite, like when Spain looked invincible, Hello !!!!!
The fissures in the Spanish last third is latent, but a tactical reality for opponents. Has anybody noticed that Spain's starting XI has been more or less unchanged for the last three years or that nine of the twenty outfield players in their current 23 man squad is 27+ and another three over 30 ? Here's the deal :
If Spain's starting XI picks itself for three years, then why is all the young talent not seeping through ?

* If the squad if brimming with talent, how come the glass ceiling has not been broken ?

* With the age symmetry of the squad, won't it be the case a large percentage of the current squad
getting phased out the same time ?

* If 60 % of the current squad are likely vanish at the same time, would the talent of the up-and-coming youngsters be a match for the unique experience of the departed ?

Hypothesis for consideration.
Blog post, June 25th, Soccerprescription.
The likes of Alan Hansen on BBC are proving to be reactionary and sclerotic in their analysis. In the build up to the game, he dismissed Brazil with impunity. Calling them "overrated". What grates is that stiff, dismissive demeanour he possessed making his declaration Brazil would not be good enough. Praise be to Luca Vialli and Alan Shearer for better professionalism. Alan Hansen's one dimensional commentary is symptomatic of all that is wrong about our pundits today: Boring and repetitive. The game is crying out for dynamism, and pundits must come out of their self absorbed bubble.
READ : Sky's Egregious Punditry
Back to Spain: they did not score in their last two games of the confederations cup, and the 3-0 loss to Brazil in the final could have been worse. It will be foolish to talk about the end of an exceptionally amazing group of players, but it's safe to say they are now at a critical juncture. That defeat to Brazil will be analyzed countless times by prospective opponents. There is enough talent in their arsenal, especially from the under 20 group to keep them a force in the game for a while to come, however, there is now factual evidence they are beatable, and worse still, there is a method to doing so. They will have to raise their game hereon, and what sort they reload their chamber with, and whether they can get hungrier for more titles is what determines their future. There should be nothing automatic about success in football. Take note, Alan Hansen !