One of those tournaments to have made a defining impact on my knowledge of the game was the Euro Championship in 1988. Marco van Basten's goals illuminated the tournament, Frank Rikyaard was gritty and tenacious; Republic of Ireland shocked England in a 1-0 win. I had prior knowledge of such standards, and quality of play, but the player whose performances broadened my horizons was that of the Dutch number 4, by the name RONALD KOEMAN. His play was distinctive from a technical and tactical standpoint, and I followed his career at Club and International level from then till he retired as a professional player His style of play remains a marvel to me - The man played in an inimitable style all thorough his career..., never deviated in standards; and Koeman's uniqueness is underlined by the fact that no player has emerged to play in the fashion he represented. Not even from his native Netherlands. There are players you cannot quite emulate or copy, and Ronald Koeman was an embodiment of a collection of attributes you hardly find all in one player.
STYLE: Ronald Koeman by job description was a defender, but that would be a misnomer. Koeman was more than a defender to the team ; he was a vanguard for Barcelona and Netherlands, because he invariably got attacks going from the back. With his astonishing ability to keep the ball, he was a spark in the chain of events that enabled his team mates take up advanced attacking positions The underlying effect on the opposition is that they get pinned in their own half, and in a tentative frame of mind : wondering if to push-up, or drop back further. This handed the initiative to Ronald Koeman's team. He had the technical skills not only to keep the ball in deep positions and come forward with it, he could play short passes, get the ball back... or launch long passes to the creative players who are camped far field, making it easier to work on the opposition in their own half. His orchestration of attacks formed an integral part of the tactical plans of the sides he played for. Koeman may have had his critics due in part to the fact that his major weakness was his defending in one- on- one situations, and yes, he was not brilliant if a striker was playing on his shoulder, neither was he the quickest, but the pluses he brought far outweigh the minuses.
Ronald Koeman possessed phenomenal shooting prowess, especially from long range. It was a consistent feature in his playing career. He was deadly from the penalty spot, and his free kicks from long range were legendary. Like the winning goal in the 1992 champions league final for Barcelona against Sampdoria, which probably was a defining moment.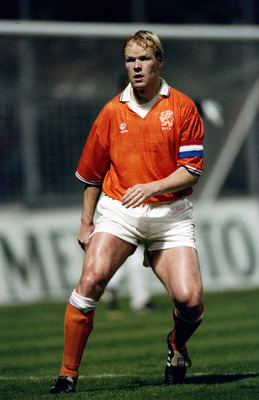 ACHIEVEMENTS : Ronald Koeman was a winner through and through. Scorer of 227 goals in 647 career games. A remarkable achievement for a centre back. He ranks as the highest goal scoring defender to date. He scored the winning goal to give PSV Eindhoven the European Cup in 1988. The same year he went on to win the Euro Championship with the Netherlands. He won Dutch league titles on four occasions with Ajax and PSV Eindhoven; and another four Spanish league titles, plus the Champions League with Barcelona between 1990 and 1994. He won 78 international caps for the Netherlands,
For more, read :
Dutch Legacy part 1
Dutch Legacy Part 2
scoring 14 times. By any barometer, Koeman brought something special to the game with his style of play, tactical nous, and leadership on the pitch. He played as the fulcrum, and that says a lot for a player who played for six years for Barcelona's dream team under Johan Cryuff, and featured superstars like Romario, Michael Laudrup, Hristo Stoichkov, and a certain Pep Guardiola.
When I see teams today attempting to synchronize attacks, with so many players taking touches in their own half, I reminisce on the playing days of this Dutch master who made it look so easy. It's fair to say Ronald Koeman remains in a class by himself. With all the tactical progress the game has witnessed since he retired in 1997, his strides out of defense with the ball, and his multi-dimensional distribution from deep, remains an abiding memory, and a challenge to up and coming defenders to follow. He still remains a rare breed.